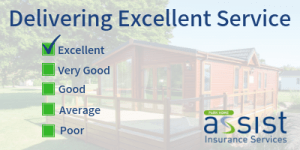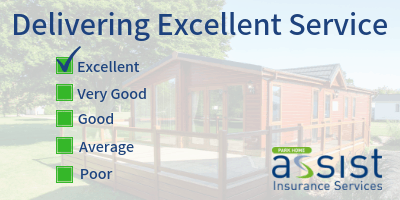 At Park Home Assist we're not just here to sell you an insurance policy, we understand that the purpose of your park home insurance is to help you out when something goes wrong. We are a family run business and the way in which we manage and settle your claim is one of the most important elements of what we do. We pride ourselves on our award-winning claims service because the way we deal with your claim is an opportunity to show you how good we really are and how important each customer is to us. Also, a true test of a policy's quality is when you need it most – when you need to make a claim.
Resolving your Claim as Quickly as Possible
Although you probably hope that you will never need to make a claim, your park home insurance is there in case you do. Experiencing a loss and having to deal with a claim can be quite distressing, so we do everything we can to resolve any claims or disputes in a timely and professional way. We try to minimise the inconvenience to you, so when things do go wrong, however big or small, our priority is to resolve your claim as quickly as possible.
At Park Home Assist, we have two dedicated Claims Co-ordinators, Tina Brown and Valerie Kearney, who ensure that your claim is managed throughout and progresses as efficiently as possible. This includes helping you to compile the information and evidence needed for the claim, liaising with loss adjusters and contractors, and keeping you informed. Tina and Valerie will always go the extra mile to ensure that our customers are satisfied with our service. This is evident in the feedback we receive from customers who have had to make a claim. Below are just a few short examples of recent claims made by our customers along with their feedback.
Park Home Insurance Claim due to a Leak in the Roof
A policy holder returned from a three-week holiday to discover a leak in their roof. Water had leaked through into their lounge area, causing damage not only to the ceiling, walls and floors, but also their carpets and curtains. Whilst the leak in the roof was not covered, the policy holder had a contractor out to repair the roof straight away. Because the policy holder had taken out the Accidental Damage cover on their property, the internal damage was covered by their park home insurance. The contents of the home were removed to safe storage, the policy holder stayed in alternative accommodation while a contractor visited the home and repaired all the damage. Everything was returned with no issues and we received the following feedback.
"We wish to say a big thank you to everyone involved with the situation. The work done and the service that everyone gave was brilliant. Thank you to all."
Park Home Insurance Claim due to Escape of Water
The policyholder experienced escape of water in the shower room of their park home, causing damage to the floor and walls. Water also leaked out into the hallway causing a lot of additional damage. All the repair and refurbishment work was completed for the policyholder and he scored the service 10 out of 10. He also confirmed he would recommend Park Home Assist to friends and family. He stated:
"There is nothing you could have done to make the service any better as it was very efficient right from the moment I made the phone call about the problem. The loss adjuster came out, the payment was made, the job was done, you were absolutely brilliant. There is nothing you could do to improve the service as it was all very good."
Park Home Insurance Claim due to a Burst Pipe
A pipe burst at 5.30 in the morning, causing water to gush everywhere. The loss adjuster visited the next day and discovered extensive damage to the flooring throughout the home. We appointed contractors immediately and instructed them to start repairs. We arranged alternative accommodation at a local hotel, so the policyholder could be comfortable during the eight days it took to repair the home. The policy holders stated:
"They acted very quickly and made sure everything that had to be done, was done, and I thank everyone sincerely."
Customer service is at the heart of what we do. It's important to our customers, and to us, especially when you need to make a claim. Our award-winning claims service demonstrates our commitment to delivering excellent service when you need us most.
For further information see details on how to make a park home insurance claim.
To keep up to date with topics like this, please follow or like us on Facebook, Twitter & LinkedIn.
https://www.parkhomeassist.co.uk/wp-content/uploads/2019/01/Delivering-Excellent-Service-2.png
200
400
Park Home Assist
/wp-content/uploads/2017/05/logov2.png
Park Home Assist
2019-01-15 12:32:07
2020-01-09 17:55:41
Excellent Service When Needed Most