Upgrading Your Park Home Interior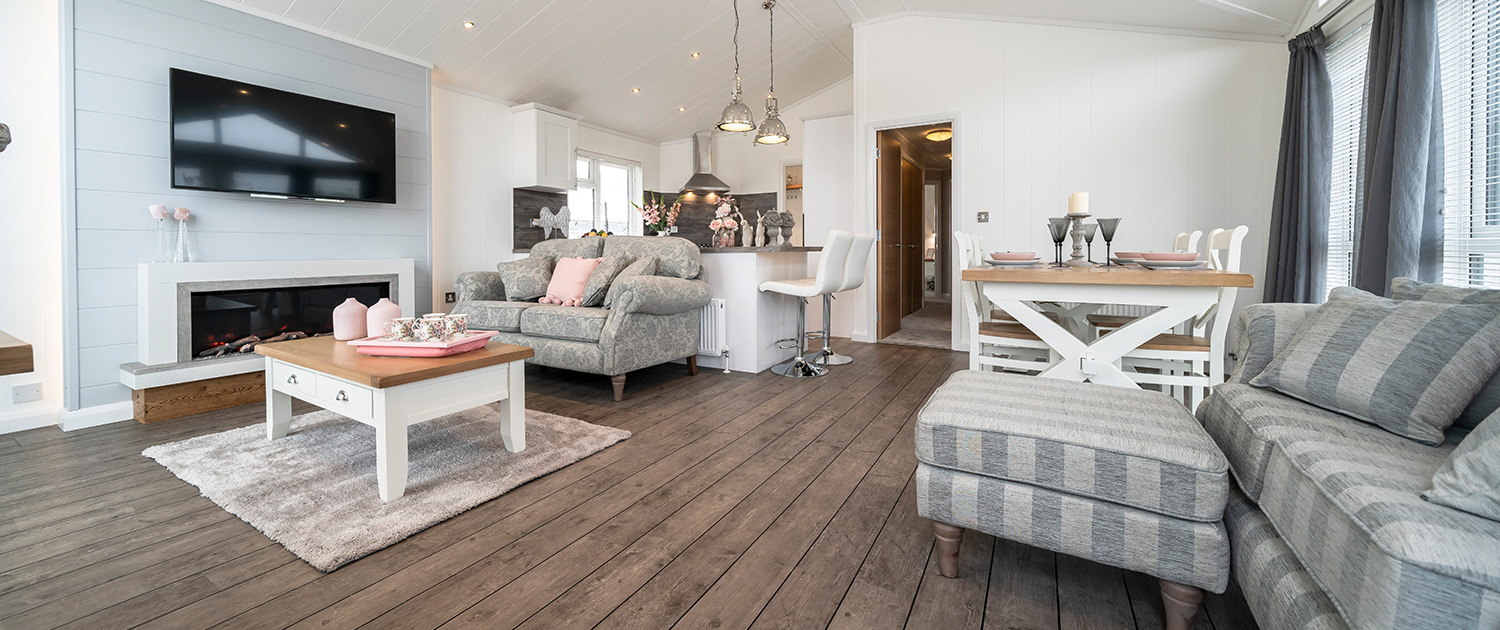 Here are a few simple ideas to upgrade your park home interior. You may have been living in your park home for some years and January is a good time to freshen it up.
Are you looking forward to having family and friends round again as confidence about the safety of indoor gatherings grows? It could also be that you just want to make a couple of small changes to jazz up the interior of your park home. Here are some ways to make a difference to your park home interior without breaking the bank.
Interior lighting for your park home
Without changing anything else, the placing and type of lights you use can really alter the atmosphere inside your park home. If all your rooms are top-lit, think about installing some lower lighting. A standard lamp and a couple of occasional table lamps can add character while providing plenty of illumination. Different combinations of lamps can be fun to experiment with more flexible lighting effects.
Inexpensive LED lights, powered by batteries can increase the options you have for the ambience in your park home. Under counters or inside cupboards, LED strips can create pools of light where you need them. This creates the possibility for lower lighting elsewhere in your rooms. If the place you are preparing food, for instance is well lit, the whole room does not have to be flooded with bright white light.
If you don't already have one, it is a good idea to invest in a battery-operated security light with a light sensor that will come on when the light falls and if lights or power ever fail. Above your park home entrance is a good spot for this.
Soft furnishings and fittings
Do not underestimate the revitalising effect a few new well-chosen throws, cushions and seating covers can have on the interior of your home. If interior design is not your strong point, Pinterest or google can provide many affordable, simple ideas.
While you do this, take a look at the curtains. In many park homes with large windows at one end of the living space, the curtains form a large expanse of colour. Changing them alone can change the feeling of your park home interior.
Storage
There are innumerable storage solutions out there that can transform your inside space. Clear away scattered shoes around your doors with a rack or surfaces with a couple of attractive catch-all trays. A few well-placed over-door clothes hangers can free the backs of chairs or other surfaces from strewn clothes. Clearer floors and surfaces can bring a remarkable sense of calm and peace to your park home interior. 
Plants
It is a simple idea but some low-maintenance plants, flowering or otherwise, can completely transform any space. Plants with waxy leaves tend to demand less water than others and come in a great variety of hue and shape.
Appliances
If you are looking to spend more, upgrading your appliances can help improve your life in your park home. Make sure you buy from a reputable dealer and check the warranty and returns policies before you buy. If you need help with installation, it is a good idea to use a firm dedicated to park homes, there are plenty out there. A quick internet search should bring one up near you. Even just replacing an old toaster or kettle, for instance, can brighten up your kitchen space.
Bathroom tips
A few small changes in your bathroom can quickly breath life back into it. Think about replacing the shower curtain, or the shower head and pipe itself. Self-adhesive shelves in the corner of the shower or bath space can lift all those shampoo and soap bottles off the surfaces, leaving your bathroom clearer, more attractive and easier to use.
Tile paint can easily lift tired old tiles and give a 'like-new' impression without the expense or hassle of replacing them all.
We hope this short list gives you some ideas to spruce up the interior of your park home.
This is a marketing article from Park Home Assist, multi award-winning providers of residential park home insurance.  If you would like to speak to an advisor regarding insurance for your park home, please contact our friendly team in our Northampton office on 01604 946 796.
To stay up to date with similar topics like this, please like and follow us on Twitter, LinkedIn or Facebook.
For more information about any of our other insurance products, please choose your product of interest below: