16,000 Visits to our Puzzle Pages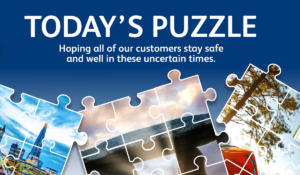 Since the Covid-19 lockdown began in March, Park Home Assist have been creating various puzzles to occupy customers throughout this period. Understandably, these are very difficult times for all of us and we know that many of our customers in isolation are experiencing very long days, so to help with this, we have developed a series of puzzles, which consist of word searches, quizzes and jigsaws, which can be found on our website – www.parkhomeassist.co.uk/puzzles.
Hundreds of people visit the puzzles daily and since we launched the puzzle pages, they have been visited more than 16,000 times by people all over the UK.  We have had some really great feedback from lots of our customers about the puzzle pages and we are absolutely delighted that we are able to help in these unprecedented times. Below is just a couple of comments:
"What a fabulous idea, definitely helping to keep the brain active and the minutes whizzing. Thank you very much during this difficult time. Not exactly easy either!" Mrs B…
"Thank you for the puzzles I love doing them each day. It helps to have something to do, as I cannot go out." Mrs F…
We have also created a puzzle book which is being sent out to 50,000 park home owners in the UK, which you can read more about here and we are continuing to explore other ways we might be able to support our customers during this time.
Our puzzle pages are update regularly and below is just a few that can be found on our website.
If you would like a quote for your park home, please click here and one of our specialist park home advisors will be in contact shortly.
This is a marketing article from Park Home Assist, multi award-winning providers of residential park home insurance.  If you would like to speak to an advisor regarding insurance for your park home, please contact our friendly team in our Northampton office on 01604 946 796.
To stay up to date with similar topics like this, please like and follow us on Twitter, LinkedIn or Facebook.
For more information about any of our other insurance products, please choose your product of interest below:
Click on a puzzle to play
Wordsearch Puzzle
Ice Cream Flavours
Quiz
British Prime Ministers