Prize Draw Winners
At the start of Spring this year, Park Home Assist launched a prize draw campaign, where we were giving 3 lucky recipients the opportunity to win some great prizes. The prizes on offer were £300 worth of vouchers to use in any store of their choice, a luxury food hamper and 1 year's free park home insurance.
The prize draw was open to all park home owners in the UK, this included existing customers and non-existing customers of Park Home Assist, who wanted to enter into the prize draw. Entering the draw was easy, you simply had to visit our website and complete the prize draw form online.  We understand not everyone has access to the website, so we also sent over 30,000 prize draw forms to park home owners throughout the UK. This was so they had the option to enter the prize draw by post, which was completely free of charge.   This was to ensure we were able to make as many people as possible, aware of the prize draw.
We received a tremendous amount of entries in the post of people entering into the prize draw and the same applies to people entering the prize draw through our website. Continue below to see who the lucky winners were
The Lucky Winners
Last month the winners were randomly selected and notified by phone of their winnings. The following people won the prizes:
1st Prize winner
1st prize of £300 worth of vouchers was won by Ms Alleyne from Leicestershire (pictured below). Mrs Alleyne chose to have £300 worth of Asda vouchers, which were sent to her in the post.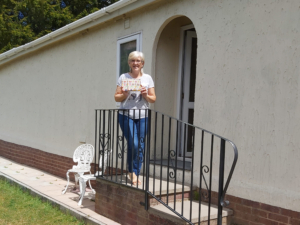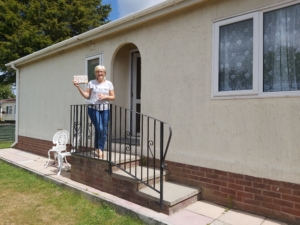 2nd Prize Winner
2nd prize was a luxury food hamper which was won by Mrs Singleton from Berkshire and the hamper was delivered directly to Mrs Singleton at home.
3rd Prize Winner
3rd prize was a years free park home insurance which was won by Mr Hurst from Hampshire.
Congratulations to all of our prize draw winners and we would also like to thank everyone that took part in our prize draw.
If you would like a quote for your park home, please click here and one of our specialist park home advisors will be in contact shortly.
To keep up to date with topics like this, please like and follow us on Facebook, LinkedIn and Twitter.