Beware of rogue traders
Householders need to be vigilant regarding roofers and other trades people who knock on your door uninvited.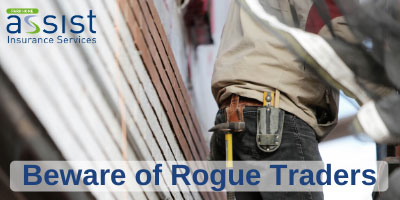 We have recently been made aware of a vulnerable park home owner who was approached by some trades people who had been working on a neighbouring park home.  They approached the 92-year-old in their park home offering to make repairs to the roof.  As with the majority of park home owners, this home owner was extremely proud of their home and had invested a lot of time and money in its upkeep over the years. Being aware that they were already planning on getting the home checked before the winter to ensure and avoid any possible issues during the bad weather, the home owner thought that the tradesmen had called at just the right time.
The home owner straight away allowed them to start work on the roof however when one of the home owners children arrived at the home and found out that their parent had already handed over more than £14,000 to the trades people, they immediately called the police and the trades people were arrested.  The work carried out on the roof was discovered to be substandard and as it had been carried out by unskilled workmen, this in effect created more problems.  The trades people were released on bail pending further investigation and now appear to have fled and are nowhere to be found, leaving a roof that now needs to be repaired costing at least another £8,000.
The moral of this story is to warn homeowners to be extremely careful of trades people who knock on your door uninvited and to make sure if you do decide to let them begin work on your home you carry out the relevant checks and research on the company.
Check the company are a genuine company (ask relatives or friends to help you if you are not confident checking the internet yourself).
Review any testimonials you have been given or seen on the internet.
Ask your park home site office if they are aware of the trades people.
Get the full name and address of the trades people and ring the company they claim to be from. Don't ring the number they give you, look it up online.
Ask friends and neighbours for recommendations if you need a trades person.
Do not be afraid to ask for references of the trades people, so you can check them out yourself.
Do not pay for all the work up front – even in an emergency. A deposit of about 25% of the total bill is more than acceptable.
Avoid paying cash and always get a receipt.
Do not take everything at face value.
Do not be afraid to ask questions. A reputable company will always be happy to answer questions and talk the job through with you.
Be on your guard especially with uninvited trades people who come to your door offering to carry out work on your home.  If you enter into a contract with someone at your door you could be entrusting potentially expensive work to someone who you do not know or have never heard of and may never see again.
This is a marketing article from Park Home Assist, multi award-winning providers of residential park home insurance.  If you would like to speak to an advisor regarding insurance for your park home, please contact our friendly team in our Northampton office on 01604 946 796.
To stay up to date with similar topics like this, please like and follow us on Twitter, LinkedIn or Facebook.
For more information about any of our other insurance products, please choose your product of interest below: